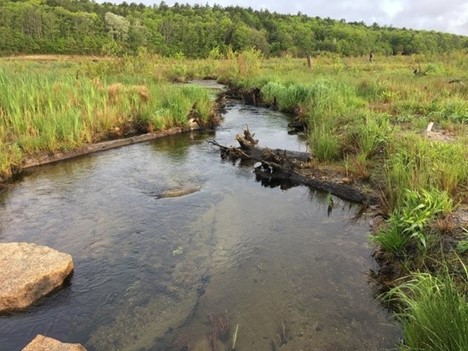 The ocean is central to slowing climate change because it has absorbed most of the earth's excess heat. But we need to keep it healthy and, where needed, restore ocean ecosystems. If we stop overfishing, polluting and destroying habitats that undermine the ocean's ability to bounce back from the impacts of climate change already underway, oceans and coasts will help mitigate the climate crisis.
Coastal Protection
According to the 2019 IPCC report: as the climate changes, rising sea levels, combined with high tides, storms and flooding, put coastal communities increasingly at risk.
Wetlands, coral and oyster reefs, and seagrass and kelp beds help shield our coasts from the full force of intensifying storms and sea level rise. Kelp and seagrass beds dampen wave force.  Wetlands buffer coastlines from sea level rise and storm surge, making communities more resilient. Coral reefs protect coasts from storm waves and surge. Oyster reefs also can protect coasts in the same way. Restoring and protecting these habitats is critical to coastal resilience.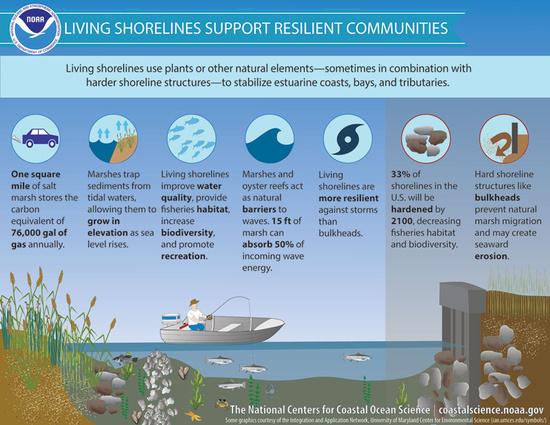 Living shorelines (also called nature-based infrastructure) are essential to protecting the coast from storm surge and rising seas. They connect the land and sea "to stabilize shorelines, reduce erosion, and provide valuable habitat that enhances coastal resilience."
Coastal resiliency is a strategy for adapting to the changes already here. The old way of protecting the shoreline was using shoreline hardening and built defenses which often don't work. Communities around the world are working to make their coasts resilient: you can volunteer to help and "get your hands dirty."
Blue Carbon
Most of us are familiar with the concept of carbon capture and sequestration on land by forests — when carbon dioxide is naturally captured from the atmosphere through biological, chemical and physical processes and stored. Blue carbon is the carbon captured and stored by coastal vegetation including tidal salt marshes, seagrass meadows, mangrove forests, and kelp forests. Coastal ecosystems sequester surprisingly large amounts of carbon – up to 20 times more carbon per acre than land forests. Kelp forests are especially good at storing carbon as parts of kelp, and other macroalgae, are carried out to sea and eventually sink to the deep away from disturbance. Blue carbon is an essential reason to keep these coastal ecosystems healthy.
Saltwater wetlands store large amounts of carbon. But when they're are cut-off from the sea, some begin releasing methane, a potent greenhouse gas.
Marine Protected Areas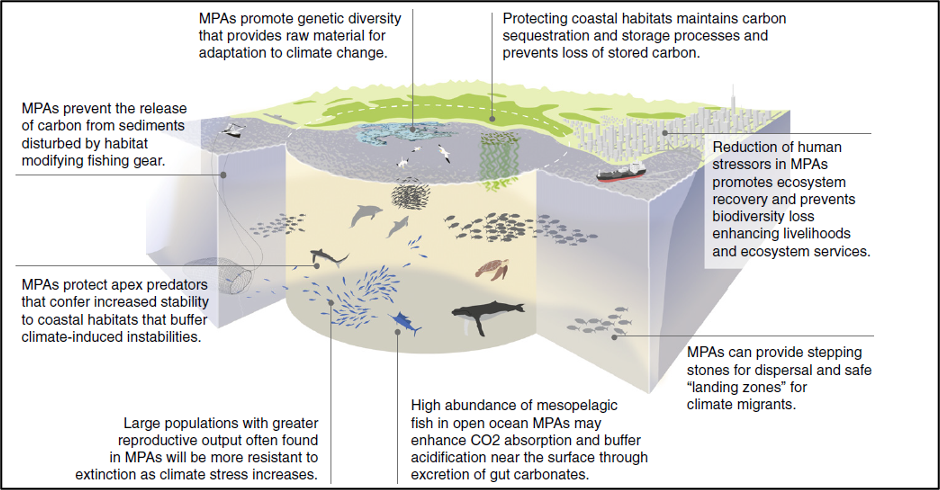 We know that Marine Protected Areas (MPAs) are a good tool for building ocean resilience to climate change. MPAs are geographically defined areas of the ocean where natural resources are given greater protection than the surrounding waters. According to NOAA, MPAs are a " key tool for maintaining and restoring ecosystem resilience in a changing climate." One of the ways that MPAs can help is by providing refuge for species moving away from warming waters.