Image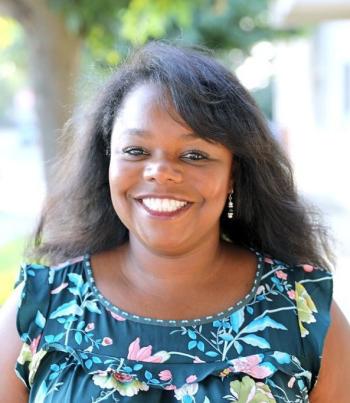 As stated on The Biomimicry Institute website, 'biomimicry is the practice of looking to nature for inspiration to solve problems in a regenerative way'. To that end, the Biomimicry Institute views education as the avenue to achieve positive impact in the world. That's where Rosanna comes in.
Rosanna's Connective Journey
Rosanna directs the Youth Design Challenge and the development of resources and programs to support educator interactions with the Institute. International Business was what first tugged at Rosanna's heart. Her father was an educator – a vocation she initially resisted. That resistance was short-lived as she eventually pursued a master's degree in education and went on to serve as the Regional Lead for science education in six counties in her position as a county Science Coordinator. As a Science Coordinator, Rosanna supported the implementation of Next Generation Science Standards in 20 school districts. 
Inspiring The Next Generation of Change-Makers
Education is the root of everything at the Biomimicry Institute. "We understand that an avenue for achieving positive impact in our world involves education.  Educating ourselves and our communities is a natural extension of our mission," said Rosanna.
Youth Design Challenge
The Youth Design Challenge gives middle and high school students a unique STEM experience and empowers them to envision solutions to social and environmental challenges. In the Youth Design Challenge students work in teams to develop a nature inspired solution to a problem connected to global climate change.
At Shape of Life, we often view biomimicry as 'hope in action'. We are all suffering  from eco-anxiety and fatigue. By giving students a way to create solutions, based upon what they observe in the natural world, we give them a way to engage with a sense of making a difference.
"Students see these complex systems interacting and want to know more.  It's an extremely social age group.  Our education programs allow students to research organisms they are fascinated with for the purposes of learning more about our world," said Rosanna.
Building Better with Carbon Sequestering Mud Bricks
With the fire season, young people in California have been struck hard by natural disasters. Fires have destroyed and displaced thousands of people from their homes and it's only getting worse. What if we could find a way to build stronger building materials that would capture CO2 while resisting damages?
BioBRICKery was designed by high school science students who were inspired by two of our favorite creatures: bees and ice fish. Students looked to honeycomb hexagons for structural efficiency and the protein found in icefish to withstand extreme temperatures.
"We'd like to see an increase in student (and educator) participation from those who need more relevance in their science experiences," stated Rosanna.
When asked how she sees biomimicry influencing science education, Rosanna responded "science education is a sleeping giant in terms of student engagement and environmental justice.  Biomimicry is a relevant practice that helps frame solutions before we are even aware of a problem.  As our founder, Janine Benyus says, "the answers to how to live sustainably on our planet are all around us."
Rosanna invites teachers and students to explore biomimicry as an educational practice. The Biomimicry Institute will continue to support education by providing standards aligned lessons in Grades K-5 along with the Grades 6-12, Biomimicry Lessons and Youth Design Challenge.